Hartscapes, a small company with a big heart.
Our team of staff are dedicated and are designing and working in the environment that they are passionate about,  making them some of the most motivated and driven people I have had the pleasure of working with.Our secret is our commitment to each garden we do. No job is too big or too small.
Each garden is unique , we pride ourselves in breathing life into our client's personal dreams, providing a space that is tailored to their hobbies and interests . You will never see the same garden twice. We are equipped with 20 years experience and are visionaries in turning ordinary spaces into flourishing, well-balanced gardens by merging existing features with intricate and complex designs. We believe that a garden is an integral part of the home. Leaf colour and texture are important components in our design process, along with balance, line, proportion, negative spaces, contrast and borrowed views.
We go beyond just landscaping aesthetics as we do all our own hard landscaping and timber work. Designing and building decks, pergolas, stone walls, and paving are just a few skills in our repertoire. This enables smooth running on sites as we  seamlessly move from one aspect of the job to the next,  making for a huge saving in time and in budget. We ensure a totally transparent approach and understand the value in keeping our clients in the loop the entire time.
We handle everything for you!
Full Project Management
Design and Layout
Construction and building
Decking & Timber work
Pergolas
Paving & Stone work
Indiginous gardens
Garden Patricia - Newlands - Cape Town
We stripped the entire courtyard and redid the design.
We painted it, Installed a new tap and basin, built pergola lights, built the water feature and did the "klompie" brick paving, and of course the planting!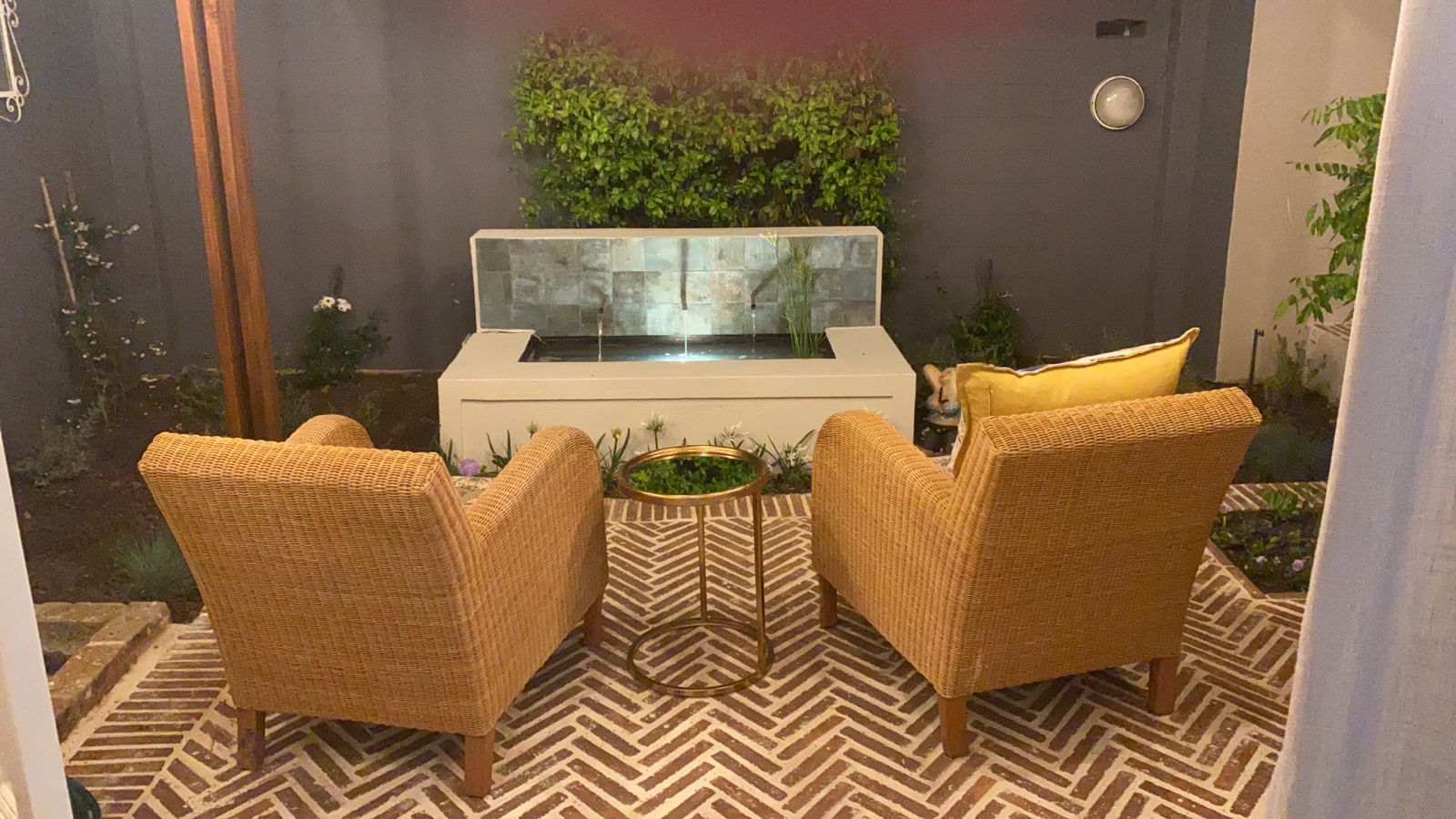 As with anything in life – a good idea and a solid plan are the corner stones for success.
A well-planned garden should flow from the house as an outdoor extension of your home, echoing your style and personality.   After LISTENING to your needs, we will determine the most cost effective way to design and transform your dreams and desires into a functional landscape that you can enjoy and that meets your family's requirements.
Each client is unique and thus each of our gardens have a unique twist to reflect our clients likes, whims and dreams, we strive to create that in all our gardens. Our emphasis is providing a cost-effective service that doesn't compromise on honest, transparent and reliable service
We are proud to offer carefully designed landscapes crafted to suit our clients preferences while prioritising sustainability.We have a focus on indigenous gardens so give us a call today!
This process includes the following work:
Site analysis (soil, sun, wind, water, views, micro climate)
Client brief (function, style, budget)
A garden concept plan.
Features and hard-scaping elements.
Lighting and accessories.
Planting palette and detailed plant planItemised Bill of Quantities and detailed quotation.
"Everything that slows us down and forces patience, everything that sets us back into the slow circles of nature, is a help. Gardening is an instrument of grace."